The New England Food Summits, convened by Food Solutions New England, bring together delegates from across New England to strengthen  collaboration for regional food system sustainability.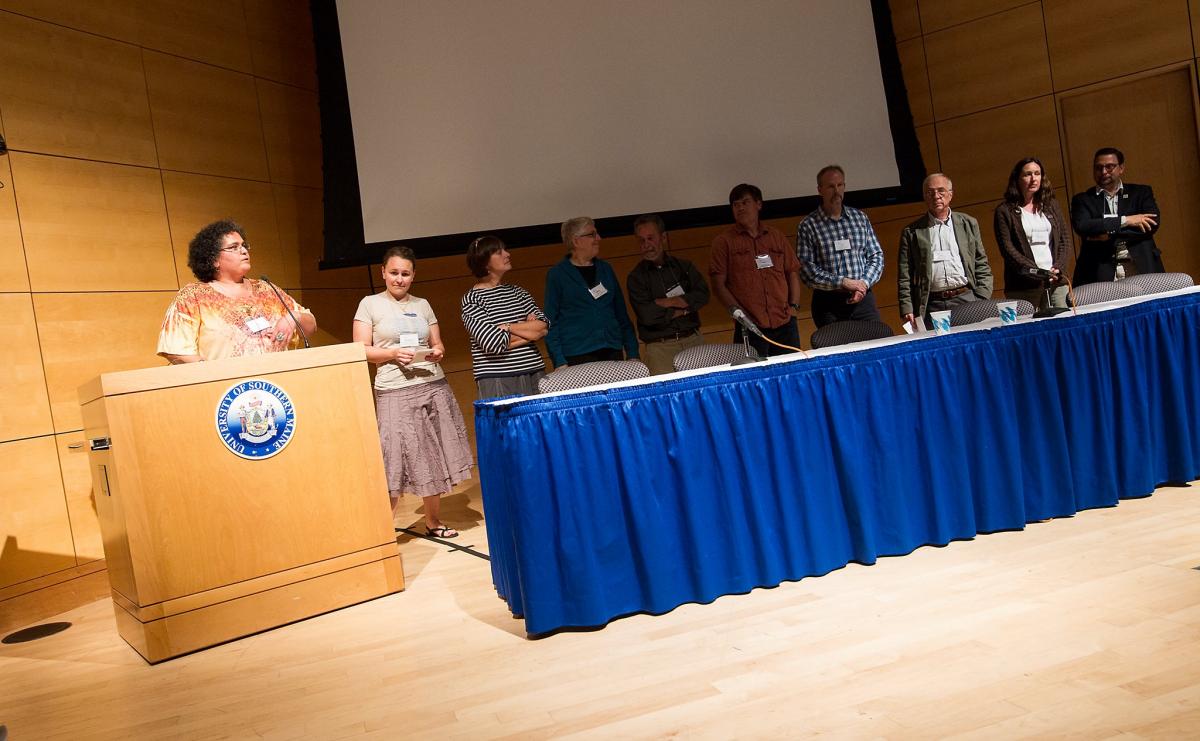 These action-oriented, working summits are designed to build upon ongoing regional efforts and to clarify regional priorities and action items that we can undertake most effectively together. A regional steering committee is asked to select and invite 10-12 delegates from each New England state. Invitations are extended to stakeholders from across the food system – from agriculture to food environment to nutrition and health to those focused on social justice aspects of our food system. In addition, a delegation comprised of crosscutting representatives who are working for regionally-based organizations or agencies are also invited. The first summit was held March 2011 in Portsmouth, NH and the second summit was held in June 2012 in Burlington, VT. This year's summit was held in June in Portland, ME.

The goals of the 2013 summit included:

Developing a shared understanding of the purpose and value of the FSNE network and providing design input to ensure that the network adds tangible benefit to their individual and collective efforts at the local, state and regional levels;

 Identifying collaborative and complementary actions within and across states that will promote more sustainable local, state and regional food systems;

Developing a shared understanding of how the New England Food Vision can be used as an aspirational vision and scenario tool to enhance food system work at all levels.
View the 2013 Summit booklet here. 
2013 Summit Delegates
Robin Alden, Penobscot East Resource Center
Kate Yerxa, University of Maine Cooperative Extension
Mark Lapping, University of Southern Maine
Margaret Sova Mccabe, UNH School of Law / UNH Sustainability Institute
Deborah Felder
Barbara Ives, Maine Food Strategy
Barbara Wauchope, UNH Carsey Institute
Elisabeth Farrell, UNH Sustainability Institute
Mary Praus, Franklin Regional Council of Governments
Curt Grimm, Carsey Institute
John Jemison, University of Maine
Winton Pitcoff, NOFA/Mass and MA Maple Producers Association
Sean Bowen, MA Department of Agricultural Resources
Enid Wonnacott, NOFA-VT
Vivien Morris, Boston Public Health Commission
Joshua Wiersma, Xi Northeast Fishery Sector Inc
Christine James, The John Merck Fund
Abbey Willard, Vermont Agency of Agriculture, Food, and Markets
Barbara Ginley, Maine Migrant Health Program
Kyle Molton, Office of Congresswoman Chellie Pingree
Linda Berlin, UVM Center For Sustainable Agriculture
Rachel Greenberger, Food Sol At Babson College
Rebecca Brown, Ammonoosuc Conservation Trust
Sam Stegeman, Community Involved in Sustaining Agriculture / PVGrows
Helen Costello, New Hampshire Food Bank
Martha Page, Hartford Food System
Elaine Vandyke, Children's Alliance Board Member
Erin Cinelli, Farmers' Gate Market
Curtis Ogden, Interaction Institute for Social Change
Jiff Martin, UConn Extension
Jennifer Rushlow, Conservation Law Foundation
Molly Anderson, College of The Atlantic
Ray Conner, NOFA-NH
Charmaine Craig, Knox Parks
Andy Radin, University of Rhode Island
Jolinda Laclair, VT Agency of Agriculture
Kathryn Ruhf, Northeast Sustainable Agriculture Working Group
Melina Packer, RI Food Policy Council
Jill Arace, Vermont Association of Conservation Districts
Christa Drew, Mass Food Policy Council Advisory Committee
Steve Crawford, NH Department of Agriculture, Markets, and Food
Henry Talmage, CT Farm Bureau
Kenneth Payne, RI Agricultural Partnership
Jessica Boynton, UNH Sustainability Institute
Carol Pickering, Dietel Partners
Olivia Saunders, UNH Cooperative Extension
Kathleen Carroll, UMass Extension
Helen Drew 
Ryan Mackay, Lilac Hedge Farm
Jamie Cruz, Massachusetts Farm Bureau Federation
David Boynton, Seacoast Local
Ben Amsden, Center For Rural Partnerships at PSU
Elizabeth Kennett,
Lawrence Williams, Jessie D Inc
Tess Brown-Lavoie, Sidewalk Ends Farm
Emily Broad-Leib, Harvard Food Law and Policy Clinic
Nicole Berube, Cityseed
Courtney Bourns, Henry P. Kendall Foundation
Ivy Frignoca
Andrew Kendall, Henry P Kendall Foundation
Sarah Waring, Center for an Agricultural Economy
Kenneth Ayars, RI Division of Agriculture
Monique Coombs, Penobscot East Resource Center
Ruth Goldman, Merck Family Fund
Eileen Hochberg, CT NOFA
Sean Mahoney, Conservation Law Foundation
Meribeth Ratzel, Fishing Locally Collaborative
Brian Donahue, Brandeis University
Sarah Kelley, Island Foundation
Ann Ferris, University of CT Health Center
Bryan Hurlburt, Farm Service Agency
Ned Porter, Wholesome Wave
Malcolm Burson, Conservation Law Foundation
John Rebar, University of Maine Cooperative Extension
John Harker, Maine Department of Agriculture
Erin Hardie Hale, Food Solutions New England
Lauren Johnston, Food Solutions New England
Colleen Flaherty, UNH Sustainability Institute
Tom Kelly, UNH Sustainability Institute
Lisa Fernandes, The Resilience Hub
Ted Ames, Penobscot East Resource Center
Jackie Furlone, UNH Sustainability Institute
Amanda Beal 
Peter Allison, Farm to Institution New England
Stacy Burnstein, Castanea
Joanne Burke, University of New Hampshire
Melissa Spear, Common Ground
Julie Conroy, Metropolitan Area Planning Council
Cris Coffin, American Farmland Trust
Britt Lundgren, Stonyfield Farm
Jeff Cole, Mass Farmers Markets
Raegan Larochelle, Maine Food Producers Alliance
Erik Chapman, UNH Cooperative Extension/NH Sea Grant
Travis Marcotte, Intervale Center
Meghan Sheradin, Vermont Fresh Network
Sheila Deming Brush, Grow Smart Rhode Island
Gemma Gorham, RI Food Policy Council and Brown University
John Hamilton, NH Community Loan Fund
Ellen Kahler, Vermont Sustainable Jobs Fund
Niaz Dorry, Northwest Atlantic Marine Alliance
Erica Campbell, Vermont Sustainable Jobs Fund / Farm to Plate
Marilyn Moore, Witness Project of CT, Inc
Steven Munno, Massaro Community Farm
Roger Noonan, New England Farmers Union
Ellen Cynar, City of Providence, Healthy Communities Office
Megan Camp, Shelburne Farms
Craig Hickman, Annabessacook Farm
Colleen Smith, State of NH
Thai Ha-Ngoc, Henry P Kendall Foundation
Nicole Meyers, Henry P Kendall Foundation
Sofia Segura Perez, Hispanic Health Council
Anthony Munene, Organization for Refugee and Immigrant Success
Karen Spiller, Boston Collaborative For Food and Fitness
Karen Murchison 
Ellen Parker, Project Bread
Steven Reviczky, Connecticut Department of Agriculture
Dorn Cox, Greenstart
Tanya Swain, Maine Food Strategy Initiative
Andrew Marshall, Maine Organic Farmers & Gardeners Association
Jeff Nichols, Maine Department of Marine Resources
Walter Whitcomb, ME Department of Agriculture
Leo Pollock, Southside Community Land Trust