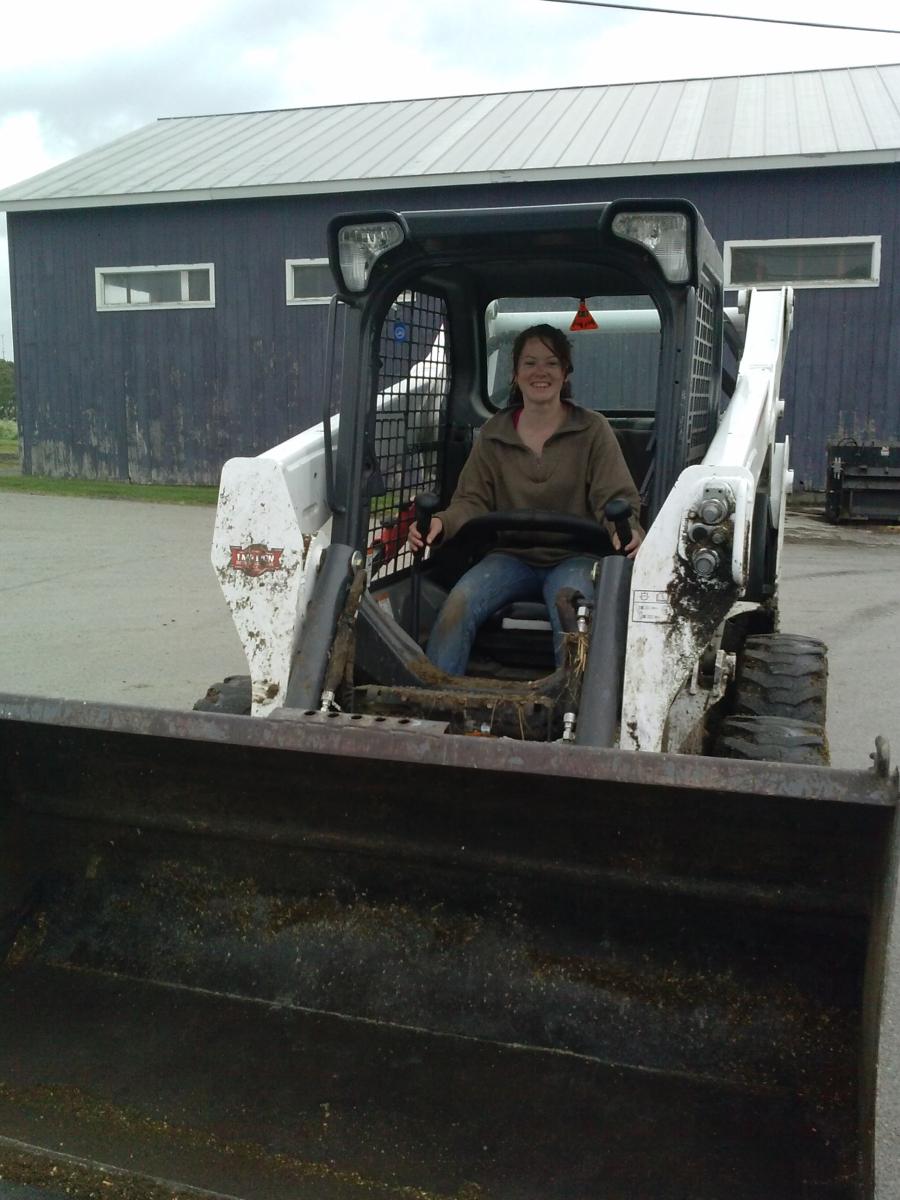 Chantal Mullen is originally from New Hampshire but now calls Virginia home. Chantal has a Certificate in Graphic Communications, an Associate's Degree in Horticulture Technologies from Forsyth Technical Community College, a Bachelor's Degree in Agriculture Education. Chantal is also involved in a community initiative called SEED2SEED. Inspired by the Vermont Food Systems Study Tour, a three-week immersive experience into the Vermont food system, she participated in this summer, Chantal is starting her Master's Degree in Sustainable Food Systems at Green Mountain College.
Why do you do what you do?
I have been growing things since I was about eight years old and to this day find the potential one tiny seed has fascinating. Through my studies in Horticulture and Soil Science, I discovered a passion for sharing what I learned. That discovery lead me to pursue Agriculture Education at North Carolina Agricultural and Technical University, which takes what I previously learned in the Horticulture Technologies program and teaches me to effectively share with others.
I have been a single mom in the past; trying to juggle multiple jobs, college, church, and spending time with my son. I know the realities of time constraints, budgets, and having to choose between making sure we are full or being able to cook nutritious food that's actually good for us. This is where my life experiences and my education have come together in a meaningful way for me. Helping other people in these same situations find solutions to this problem is something that is on my heart.
Why did you join the Vermont Food System Tour?
I was planning on applying to Virginia Tech for a degree in Crop Science but had mixed feelings about where I would possibly end up with that degree. I was concerned with genetically modified plants and I personally don't think God intended for us to change what He made. I had prayed about my reservations in this area and then I received an interesting email about a three-week tour of Vermont. I was intrigued with the idea of Food Systems and my background in agriculture played a role. After checking into the tour further, I realized that this was a one of a kind opportunity to experience agriculture in a larger view. 
During the tour, we would be able to hear from almost all parts of the Food Systems and learn how they are all connected and affect each other. Some of the areas covered that were most appealing to me were laws, policy, government, relationships, food justice, and rights. Participation in the University of Vermont Food Summit was another plus on the list of reasons to join the tour. Hands-on experience is important to me to fully understand how things work and that is what the tour is all about. From being on this tour I gained clarification on what I wanted to do and how I could make that happen.
What was your favorite experience from the Tour?
My favorite experience from the tour was at Vermont Tech. They have a high focus on experiential learning. I got to work a skid steer to load shavings for animals. I was instructed on all the details of milking cows and then was able to milk the cows myself. Cows have personalities and some like to test your patience!
Later on, I did morning chores. I went to the pasture where I received an unexpected zap to my hand, which prompted a lesson in types of fencing. We fed the cows and learned how, what, and why they are fed. It was a great feeling to be walking in the middle of a herd of cows.
We then jumped into the small utility vehicle and rode to another pasture on campus where some mischievous teenage cows had somehow bailed the pasture. I experienced rounding cows and found out that I was not so good at it. The ground was very wet and laden with holes from hoofs. By 6:30 AM I was drenched up to my thighs in water, mud, and…other things. But I gained such an incredible amount of firsthand experience that I didn't mind at all.
How can the FSNE Network help you with your upcoming action opportunities?
While a sustainable urban education farm is my long-term goal, I want to be able to help people now on a smaller scale. This is how SEED2SEED was created. SEED2SEED is an outreach group that meets every Monday night. Experience in gardening is not necessary, just willing hands to serve each other and the community. We plan out and tend to a community garden and then serve the community with the harvest that God provides. 
Our motto is "We Plant In SOIL". Sowing Opportunity; Improving Lives. This means we not only look for opportunities to sow into the ground but in to each other's lives. We improve lives though personal experiences in and around the garden as well as through the use of the harvest for those in need. We have a Facebook page where you can see our progress in the garden and we communicate about our meetings for each week. 
Right now, we are looking for groups to partner with us to serve a local population (Roanoke, VA). We hope to spread awareness of what we are doing. Gaining connections and partners is what will allow us to be the most effective with our time and resources. We seek like-minded individuals who place high priority on values of a community helping each other, sustainable gardening, and sharing God's love through this outreach.