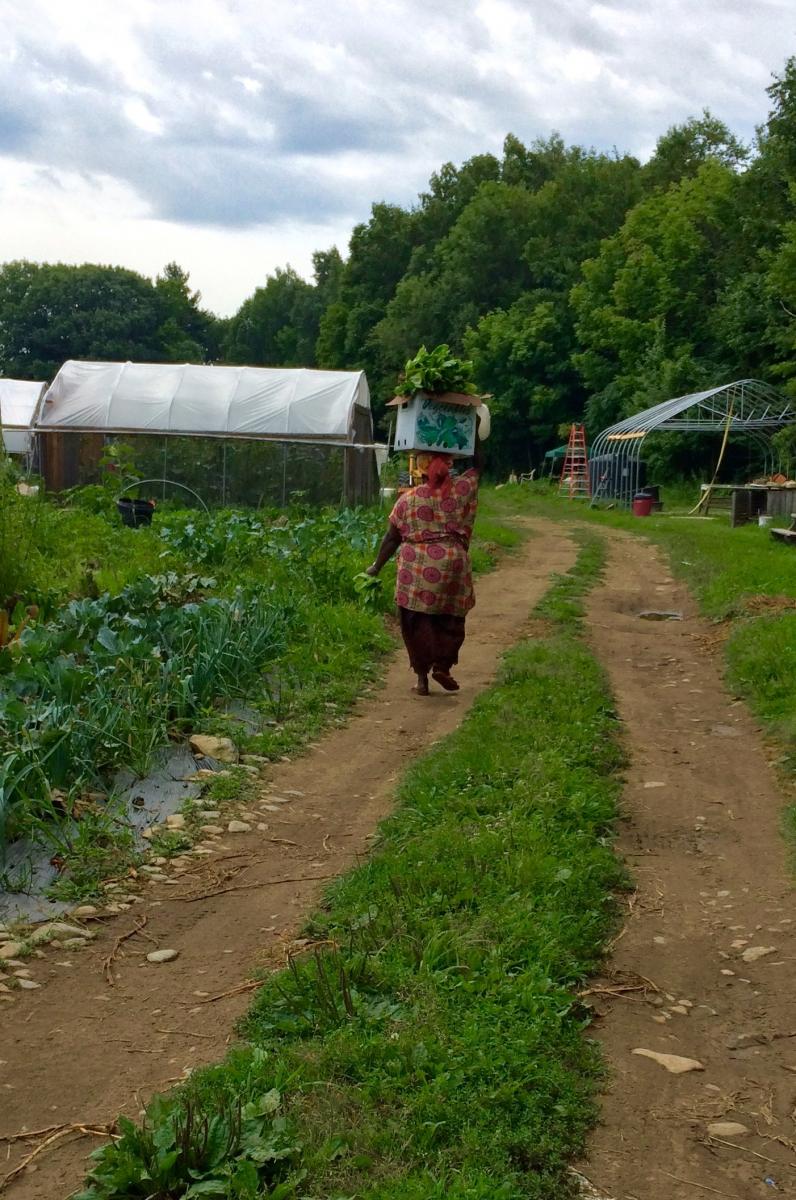 The Organization for Refugee and Immigrant Success (ORIS) has been operating and developing their New American Sustainable Agricultural Program (NASAP) since 2012, primarily running their training program out of their Dunbarton Fresh Start Farms location along with a few other sites.  After five years of operations, which resulted in significant soil building and infrastructure, we have developed an exciting new opportunity.  We have secured a contract to purchase our current Dunbarton location which consists of 56.8 acres of farm and forest land.  The contract negotiations resulted in a bargain sale price as well as ample time to raise funds.  We have put together a fundraising campaign called Our Story Hill, an effort to catalyze support to perpetuate this unique farming community on Story Hill Road in Dunbarton, NH. 
This project builds upon the traditional incubator farm model to fully consider land tenure. The traditional model incubates new Americans on other people's land. The farmers enter the program to learn how to grow food, how to run their own businesses, how to sell, etc. until they eventually graduate from the incubator. The graduating farmer is displaced from the incubator farm and expected to find their own land, improve soils, build infrastructure, develop markets, and become independent. This is a daunting task for any farmer and more so for those new Americans just creating roots in the community.  This displacement forces the end of farming for many graduates, unless they find their own farmland, community, and support. ORIS identified this as a critical area of concern of the traditional incubator farm model.  ORIS realized that secure land tenure and the ability for the farm business to build equity are keys to success for new Americans within their farming program.  Enter: The Russell Farm and Forest Conservation Foundation! We connected with Ian McSweeney of The Russell Foundation who is what we like to call "the guru of farmland lease and purchase models," and together we spent two years planning the Our Story Hill project and securing partnerships, agreements, purchase contracts, and support needed to create an achievable project that has the potential to become a self-sustaining model of successful farm and community incubation and long term viability.
Our new approach looks to account for secure land tenure and equity through permanent land ownership by ORIS and long term ground leases to new American farmers.  The new model looks to have holistic land management collaborations and conservation.  The model uses the unique characteristics of the land itself to create an agrarian ecology that has the proper balance of human use and natural areas, farm and forest.
The challenge is to catalyze enough public and community support to ensure success for this project.  As part of the overall project, we are challenged to raise public support through broad-based, grassroots giving.  This support will be used to leverage foundations' support for the project.  Our crowd funding campaign ends on January 15th, and we just announced a matching funds campaign.  You can see it all here. 
The farm currently produces ONE MILLION pounds of food per season.  This is done on the 7+/- acres of open farmland.  The successful completion of this project will allow for plans of expansion, a wonderful contribution to the local food movement.  
This approach is one great way to create permanence for our programs as well as for new Americans.  We are happy to share our adventures with this new model as it develops.  Please follow our progress here.
Wendy Stevens is a Program Manager at ORIS and is currently overseeing this special project.  She is continually driven by her passion for food security and land security issues and strives to create real change for a better future.
Read more about the farmers: A Fresh Start in New Hampshire: Isho Mahamed & Fatuma Yussuf