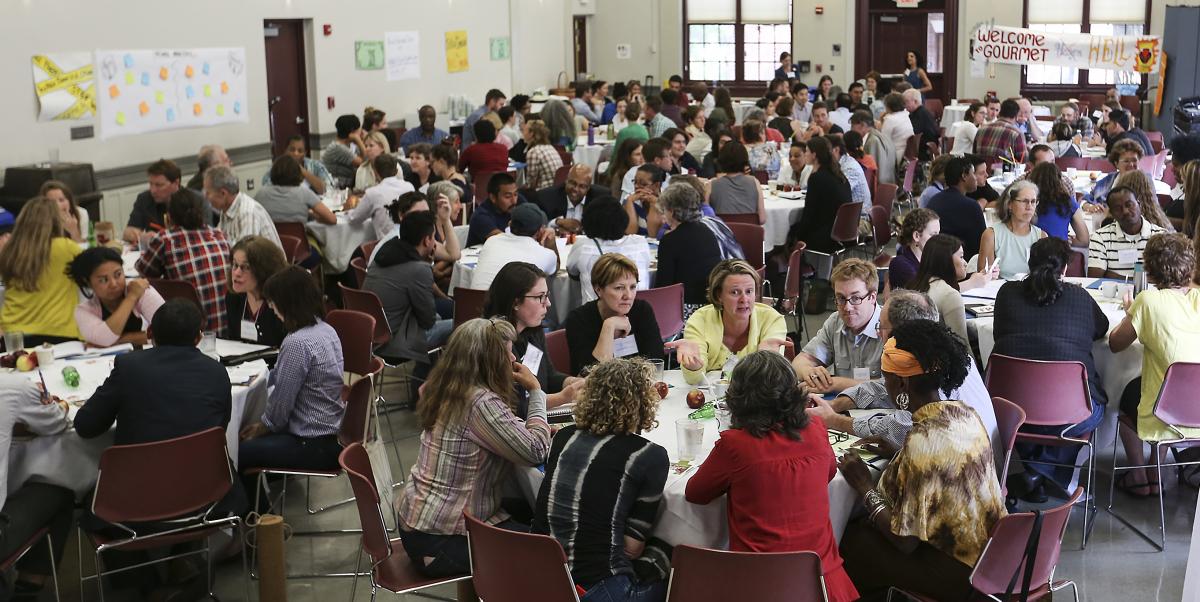 The fifth annual New England Food Summit was held June 11-12, 2015 at Simmons College in Boston, Massachusetts. The summit included a focus on racial equity in the food system, as well as the issue of fair price and what it might take to have economic justice across the food chain. 
There were ten delegations to this year's summit:
State delegations from each of the six New England states
Emerging leaders delegation
Food Chain Workers delegation
Funders delegation
Crosscutting delegation including the FSNE Network Team, others working at the regional level, 

and individuals invited by the 

Ambassador Team to ensure 

more diversity reflecting the commitment to racial equity in the food system
This year we welcomed a new delegation:
The goal of including a food chain workers delegation is to bring the voices and perspectives of food chain workers, who play a vital but largely undervalued and underpaid role in the current food system and to incorporate their experiences, needs and aspirations into the Food Solutions New England vision, common agenda, shared metrics, communication and network composition. We are defining food chain workers as its defined by the Food Chain Workers Alliance, as those on the frontlines who do not own businesses (unless it's a worker-owned cooperative) and/or who do not employ others (so we include street vendors). This distinction is due to a power difference between those who hire and employ others and those who don't. FSNE is already working to increase more participation by family farmers and fisherman, and other "business owners" as part of the state and emerging leader delegations. 
View the 2015 Summit booklet here.
View the slides from the data presentation here and links to the inequality graphics on the Farm to Plate website here.
2015 Summit Delegates
Celina Adams, TWH Foundation
Ricardo Alavez Viveros, Grow Windham
Rose Albert, African Alliance of RhodeIsland
Ibrahim Ali, Gardening The Community
Erin Allgood, NH Food Alliance
Jonathan Alvarez, Pioneer Valley Worker Center
Ben Amsden, Center for Rural Partnerships at Plymouth State University
Molly Anderson, College of the Atlantic
Michael Araujo, ROC United
Mileika Arroyo, ROC United CT Member
Andrew Bahrenburg, University of Vermont
Ona Balkus, Harvard Food Law and Policy Clinic
Karen Barker, Lakes Region Food Network
Amanda Beal, Maine Farmland Trust
Richard Berkfield, Food Connects
Linda Berlin, UVM Extension Center for Sustainable Agriculture
Nicole Berube, CitySeed
Courtney Bourns, Henry P. Kendall Foundation
Kerry Bowie, MassDEP
Rebecca Brown, Ammonoosuc Conservation Trust
Sylvain Bukasa, Organization for Refugee and Immigrant Success
Joanne Burke, UNH Sustainability Institute
Sarah Byrnes, New England Resilience and Transition Network
Amy Carrington, Organization for Refugee and Immigrant Success
Vernia Carter, Progreso Latino
Liz Castle, CT Food Justice Corps
Jake Claro, Vermont Sustainable Jobs Fund
Clem Clay, Grow Food Northampton
Stacia Clinton, Health Care Without Harm
Cris Coffin, American Farmland Trust
Shayna Cohen, Karp Resources
David Colson, Maine Organic Farmers and Gardeners Association (MOFGA)
Faye Conte, Hunger Free Vermont
Dorn Cox, Greenstart
Jackie Cullen, UNH Sustainability Institute
Mohamed Daud, Organization for Refugee and Immigrant Success
Catlin Davis, Vermont Law School
Jessica del Rosario, Massachusetts Convergence Partnership
Jesse Delia, Common Ground High School, Urban Farm, and Environmental Education Center
Jeremy DeLisle, UNH Cooperative Extension
Sona Desai, Intervale Center
Kafi Dixon, Women of Color Cooperative
Jeannie Do, BCBSMA
Brian Donahue, Brandeis University
Niaz Dorry, Northwest Atlantic Marine Alliance
Valentine Doyle, Lawson Valentine Foundation
Stevie DuFresne, Maine Farmland Trust/Unity Food Hub, LLC
Elsa Dure, RI Racial Equity in the Food System Ambassador Group
Kerry Ellington, Community Organizer New Haven
Tevonne Ellis, YMCA of Greater Hartford
Emma Enoch, Student at Sterling College
Claudia Espaillat, Farm Fresh RI
Elisabeth Farrell, UNH Sustainability Institute
Lisa Fernandes, The Resilience Hub
Marjie Findlay, Claneil Foundation
Colleen Flaherty, UNH Sustainability Institute
Kyle Foley, Gulf of Maine Research Institute
Aaron Frederick, Friends of the Presumpscot River
Julie Garay, F.R.E.S.H. New London
Marie Gilbert, Interdenominational Ministerial Alliance (IMA)
Liz Gleason, Vermont Farm Viability Program
Ruth Goldman, Merck Family Fund
Thelma Gomez, Justicia Migrante/Migrant Justice
Subira Gordon, African American Affairs Commission
Shannon Grimes, Maine Farmland Trust
Thai Ha-Ngoc, Henry P. Kendall Foundation
Tommy Haas, TWH Foundation
John Hamilton, NH Community Loan Fund
Fulani M. Haynes, The Village for Education and Training
Kayleigh Hill, University of Rhode Island
Christoph Hinske, The Institute for Strategic Clarity
Lisa Holmes, CitySeed
Emily Horton, Congresswoman Chellie Pingree
Rafael Huerta, Centro Comunitario de Trabajadores (Community Worker Center) en New Bedford, MA
Ravdeep Jaidka, UNH Sustainability Institute
Christine James, The John Merck Fund
Jason Jarvis, Northwest Atlantic Marine Alliance
Terry Johnson, Foundation for Healthy Communities
Ellen Kahler, Vermont Sustainable Jobs Fund
Sarah Kelley, Island Foundation
Tom Kelly, UNH Sustainability Institute
Andrew Kendall, Henry P. Kendall Foundation
Dawn King, Brown University/Rhode Island Food Policy Council
Ed King, Littleton Food Co-op
Julius Kolawole, African Alliance of Rhode Island
Sanne Kure-Jensen, Northeast Organic Farming Association of Rhode Island (NOFA/RI)
Heather LaPenn, Pioneer Valley Workers Center
Craig Lapine, Cultivating Community
John Lee, Allandale Farm
Josh Levin, Cambridge Public Health Department
Vina Lindley, University of Maine Cooperative Extension
Deborah Linnell, van Beuren Charitable Foundation
Bevan Linsley, Island Commons
Ninya Loeppky, The John Merck Fund
Harol Lopez, Fuerza Laboral
Faith Lorde, Bridgeport Health Department
Abel Luna, Migrant Justice
Rachelle Lyons, Center for Rural Partnerships at Plymouth State University
Jessica Mahon, End Hunger CT!
Andrew Marshall, Land For Good, Inc
Jiff Martin, UConn Extension
Onelissa Martinez, Farm Fresh Rhode Island
Marilyn Martino, The Sudbury Foundation
Lisa Mase, Harmonized Cookery
William McCaffrey, Spring Rain Farm
Janet McLaughlin, Vermont Community Foundation
Lesly Medina, Groundwork Lawrence
Hannah Mellion, Farm Fresh Rhode Island
Senowa Mize-Fox, UE 203 -United Electrical, Radio and Machine Workers of America/City Market
Spencer Montgomery, Slow Food
Marilyn Moore, Witness Project
Kendra Murray, SEMAP (Southeastern Massachusetts Agricultural Partnership)
Valerie Nelson, Water Alliance
Meryl Nevins, Prospect Farm
Adeline Newbold, West Elmwood Housing Development Corporation
Ginger Nickerson, UVM Extension Center for Sustainable Agriculture
Elizabeth Nikazmerad, UE Local 203
Jennifer Obadia, Health Care Without Harm
Curtis Ogden, Interaction Institute for Social Change
Amanda Parks, New England Fishmongers, Slow Food Seacoast
Maegan Parrott, At The Root
Kenneth Payne, Rhode Island Food Policy Council
Andrea Perry, Broad Reach Fund
Kevin Peterson, NH Charitable Foundation
Sven Pihl, CT Edible Ecosystems
Winton Pitcoff, MA Food System Plan
Leo Pollock, Rhode Island Food Policy Council
Ned Porter, ag hack
Jamie Pottern, Mount Grace Land Conservation Trust
Stephanie Reusch, Southeastern MA Food Security Network
Jim Ritchie-Dunham, The Institute for Strategic Clarity
Monica Rivera, Pioneer Valley Workers Center
Johanna Rosen, Food Solutions New England
Nancy Ross, The Carrot Project
Annie Rowell, Sodexo
Jennifer Rushlow, Conservation Law Foundation
Jesse Rye, Farm Fresh Rhode Island
Georgina Sarpong, Farm Fresh Rhode Island
Scott Sawyer, Vermont Sustainable Jobs Fund
Synthia Scott-Mitchell, Springfield Food Policy Council
Sofia Segura-Perez, Hispanic Health Council
Hannah Semler, Healthy Acadia
Deborah Sheely, URI College of the Environment and Life Sciences
Jonathan Slason, Harlow Farm
Laura Smith, Harvard Pilgrim Health Care Foundation
Theresa Snow, Salvation Farms
Andrea Solazzo, Vermont Foodbank
Anna Sommo, Cultivating Community
Joanne Soulouque, The Dimock Center
Karen Spiller, KAS Consulting
Josh Stoffel, Connecticut College
Racheal Stuart, Racheal L Stuart Consulting
Tanya Swain, Maine Food Strategy
Tiffany Torres, CT NOFA / FoodCorps
Sara Tower, New Lands Farm
Jose Ventura, Justicia Migrante/Migrant Justice
Daniel Wallace, Coastal Enterprises Inc (CEI)
Greg Watson, Schumacher Center for a New Economics
Patricia Wefald, Panta Rhea Foundation
Bart Westdijk, New England Grassroots Environment Fund
Robert Wild, Hartford Food System
Jennifer Wilhelm, NH Food Alliance
Monique Wrice, CABHN
Tara Zadeh, MA Department of Agricultural Resources
Ali Zipparo, Vermont Agency of Agriculture, Food and Markets