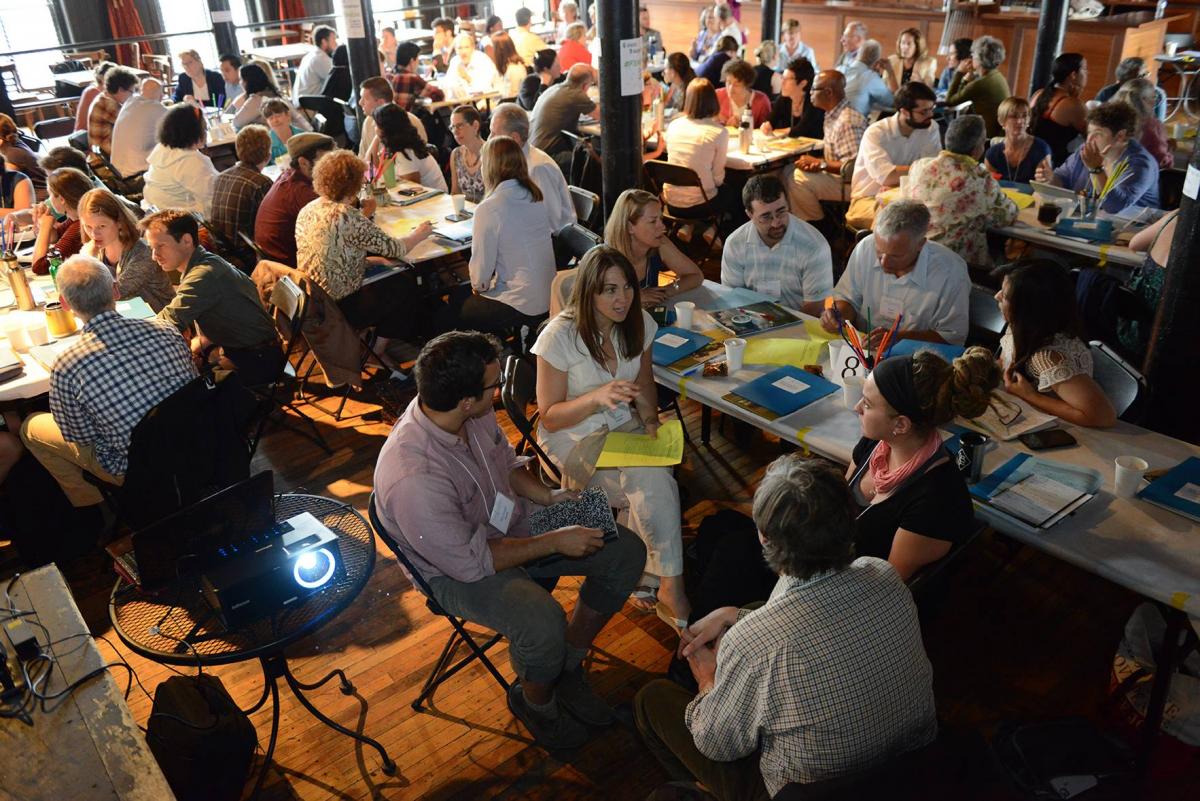 The fourth annual New England Food Summit was held June 12-13, 2014 at Hope Artiste Village in Pawtucket, Rhode Island. The summit included a focus on urban and metropolitan food system issues, as well as the central place of food justice and racial equity in food system sustainability. Four delegations (over 150 participants) were in attendance: six state delegations, young professionals delegation (ages 19-29), food funders delegation, and a cross-cutting delegation of individuals working at the regional level.
View the 2014 Summit booklet here.
2014 Summit Delegates
Erin Allgood, Food Education Network
Celina Adams, Thomas w. Haas foundation
Eva Agudelo, New Entry Sustainable Farming Project
Peter Allison, Farm to Institution New England
Ben Amsden, The Center for Rural Partnerships at Plymouth State University
Molly Anderson, College of the Atlantic
Mary Anthony, The 1772 Foundation
Peter Asan, City of Providence
Ken Ayars, Division of Agriculture, RIDEM
Amanda Beal, Sustainable Food Systems Research & Policy Consultant
Javiera Benavente, PVGrows
Richard Berkfield, Food Connects
Linda Berlin, UVM Center for Sustainable Agriculture
Becky Bessette, RI Department of Education
Courtney Bourns, Henry P. Kendall Foundation
James Boyle, Connecticut Food Justice Young Professionals Corps
Jessica Boynton, UNH Sustainability Institute
Gabriela Bradt, NH Sea Grant
Matt Brodeur, Henry P. Kendall Foundation
Rebecca Brown, Ammonoosuc Conservation Trust
Tess Brown-Lavoie, Sidewalk Ends Farm, Little City Growers
Joanne Burke, UNH Sustainability Institute, UNH College of Life Sciences & Agriculture
Erica Campbell, Vermont Sustainable Jobs Fund / Farm to Plate
Kevin Carrasco, Nuestras Raices
Amy Carrington, Organization for Refugee and Immigrant Success
Stacia Clinton, Health Care Without Harm
Cris Coffin, American Farmland Trust
Sharon Conard-Wells, West Elmwood Housing
Julie Conroy, Metropolitan Area Planning Council
Dorn Cox, GreenStart
Jackie Cullen, UNH Sustainability Institute
Elizabeth Cullen, Root Consulting
Marydale DeBor, Fresh Advantage LLC
Jessica del Rosario, Massachusetts Convergence Partnership/Health Resources in Action
Brian Donahue, Brandeis University
Maggie Donin, Intervale Center
Niaz Dorry, Northwest Atlantic Marine Alliance
Mohamed Doud, Organization for Refugee and Immigrant Success
Valentine Doyle, Lawson Valentine Doyle
Stevie DuFresne, College of the Atlantic
Tevonne Ellis, Greater Hartford YMCA
Olivia Farr, The John Merck Fund
Elisabeth Farrell, UNH Sustainability Institute
Lisa Fernandes, The Resilience Hub
Marjie Findlay, Claneil Foundation
Colleen Flaherty, UNH Sustainability Institute
Susan Furbish, UConn Health
Ruth Goldman, Merck Family Fund
Michael Good, Northeast Organic Farming Association of Vermont
Gemma Gorham, Brown University Institute for Community Health Promotion
Thai Ha-Ngoc, Henry P. Kendall Foundation
John Hamilton, NH Community Loan Fund
Jim Hanna, Cumberland County Food Security Council
Erica Hanson, Rhode Island Community Food Bank
Lynne Harlow, Vela Foundation
Jennifer Hashley, New Entry Sustainable Farming Project
Emily Horton, Healthy Androscoggin
Barbi Ives, Maine Food Strategy at Muskie School of Public Service
Christine James, The John Merck Fund
John Jemison, University of Maine Cooperative Extension
Leah Johnson, Wholesome Wave
Betsy Johnson, Springfield Food Policy Council
Terry Johnson, Foundation for Healthy Communities
Ellen Kahler, Vermont Sustainable Jobs Fund
Jonathan Kaplan, Lyndon State College
Sarah Kelley, Island Foundation
Tom Kelly, UNH Sustainability Institute
Andy Kendall, Henry P. Kendall Foundation
Nanne Kennedy, Maine Sustainable Agriculture Society, Meadowcroft Farm
Jean King, Independent Consultant
M. Dawn King, Brown University
Alisa Klein, Proteus Fund
Julius Kolawole, African Alliance of RI
Orion Kriegman, Jamaica Plain New Economy Transition
Craig Lapine, Cultivating Community
Karen Lehman, Fresh Taste
Arthur Lerner, FRESH New London
Dan Lerner, UVM Extension
Adam Liebowitz, North Star Fund
Deborah Linnell, van Beuren Charitable Foundation
Drew Love, Real Food Challenge
Abel Luna, Migrant Justice
Britt Lundgren, Stonyfield Farms
Rachelle Lyons, Center for Rural Partnership
Travis Marcotte, Intervale Center
Jiff Martin, UConn Extension
Adan Martinez, Yale Sustainable Food Project
Sophie McKibben, Brown University
Janet McLaughlin, Vermont Community Foundation
Jean McMurray, Worcester County Food Bank
Nadifa Mohamed, St. Mary's Nutrition Center
Marilyn Moore, Witness Project of Connecticut, Inc.
Vivien Morris, Mass Food Policy Council/Boston Public Health Commission
Dana Morse, Maine Sea Grant, and University of Maine Cooperative Extension
Anthony Munene, Organization for Refugee and Immigrant Success
Alicia Newton, YMCA
Lucy Nolan, End Hunger CT!
Roger Noonan, New England Farmers Union
Kevin O'Donnell, Hunger Mountain Coop
Curtis Ogden, Interaction Institute for Social Change
Elizabeth O'Gilvie, PVGrows, Gardening the Community, Springfield MA Food Policy Council
Jummy Olagundoye, Jam2Fit
Martha Page, Hartford Food System, Inc.
Peg Parker, Commercial Fisheries Research Foundation
Maegan Parrott, F.R.E.S.H New London
Ken Payne, RI Food Policy Council/ RI Agricultural Partnership
Jenny Pereira, Rhode Island Foundation
Kevin Peterson, NH Charitable Foundation
Carol Pickering, Dietel Partners
Linda Piotrowicz, Connecticut Department of Agriculture
Leo Pollock, Rhode Island Food Policy Council
Ned Porter, New England Farmers Union
Mary Praus, Franklin Regional Council of Governments
Dan Pullman, Fresh Source Capital, LLC
Ted Quaday, Maine Organic Farmers and Gardeners Association
Jennifer Quigley Harris, RI Food Policy Council
Carinel Ramirez, Providence Housing Authority/RI Food Policy Council
Meri Ratzel, Independent Research, Socioeconomics in Fisheries; Northwest Atlantic Marine Alliance
Steven Reviczky, Connecticut Department of Agriculture
Shirley Richardson, Vermont Chevon, LLC
Nessa Richman, Brightseed Strategies
Kayla Ringelheim, Farm Fresh Rhode Island
Brian Roper, Sodexho
Jeff Rosen, Solidago Foundation
Katelyn Rozenas, Regional Environmental Council
Kathy Ruhf, Northeast Sustainable Agriculture Working Group
Jenny Rushlow, Conservation Law Foundation
Olivia Saunders, UNH Cooperative Extension
Lisa Sebesta, Fresh Source Capital
Cynthia Silva Parker, Interaction Institute for Social Change
Mary Margaret Sloan, Vital Communities
Valerie Spain, Everett Department of Public Health
Karen Spiller, KAS Consulting
Annie Steeves, University of New Hampshire
Sam Stegeman, PVGrows/Community Involved in Sustaining Agriculture
David Stewart, McClary Hill Farm
Douglas Stuchel, Johnson & Wales University
Dorothy Suput, The Carrot Project
Ben Tettlebaum, Conservation Law Foundation
Brett Tolley, Northwest Atlantic Marine Alliance
Ken Toong, UMASS
Sara Trunzo, Veggies For All / Maine Farmland Trust
John Turenne, Sustainable Food Systems, LLC
Daniel Ungier, Cultivating Community
Navina Vemuri, Hartford Food System
Karen Voci, Harvard Pilgrim Health Care Foundation
Kirsten Walter, St. Mary's Nutrition Center
Marilyn Warren, Dr. Martin Luther King, Jr. Community Center
Bart Westdijk, New England Grassroots Environment Fund
Trina Whitridge, The John Merck Fund
Jennifer Wilhelm, Sustainability Institute
Janet Wilkinson, NOFA NH
Abbey Willard, Vermont Agency of Agriculture
Nicola Williams, The Williams Agency/Sustainable Business Network of MA
Tom Willits, Lydia B. Stokes Foundation
Enid Wonnacott, NOFA Vermont
Ruby Woodside, Food Solutions New England