In the field, I often hear the question from partner organizations or institutions: "Why is evaluation important?" and "Why do we need to do this?". As an educator and an agriculturalist I cringe at the idea that we would never make room in the cycle to step back and assess our work, reflect upon what has value and what serves purpose, and what needs to drop away to make room for new growth.
Farmers step back in the low season, plan, evaluate, take note of what worked and didn't. How can we, in the food system take stock of our work and its impact without a period of reflection? These periods of reflection and systems evaluation are important for engaging program participants, and asking them to reflect on the impact of the program and how they might use the skills moving forward. 
I implore my colleagues to remember, evaluation, at its root, is story-telling. It is many other things, in participatory evaluation the story gathering and distillation is part of the evaluative process led by a team of participants. 
As this process takes shape it is important to build an evaluation team's resilience so they can tackle the important work of cultivating questions that get to the heart of the story, and explore what the story tells us about the work that we're doing. 
In the last three years I've worked in collaboration with Abrah Dresdale, Greenfield Community College and community partners including the Franklin County House of Corrections, to deliver a curriculum in Farming and Food Systems to marginalized populations in Franklin County, MA. Franklin County is the most rural county in the state of Massachusetts, and one of the least resourced counties as well. What it lacks in financial resource it more than makes up for in rich agricultural resources, food businesses, cooperative businesses and of course, heart.
Over the next year I will be facilitating evaluation teams for two farm and food systems programs in Franklin County with institutions and community partners using the Center for Whole Communities participatory evaluation tool Whole Measures in Community Food Systems. Participatory evaluation engages participants as evaluators. Participatory evaluation uses evaluation as a tool for gathering both data and stories, giving you a two streams of data 1) qualitative and quantitative data for reporting, 2) stories for grant writing and program outreach. Participatory evaluation engages participants so they can cultivate reflective skills, and see themselves as integral in the work of evaluation. Over the next few months, using the rubrics and interview strategies we generate with the help of this tool, we will find the stories, hear the stories and share the stories of these programs' successes and challenges with the greater community and gather data about how the stories can be used to inform the next steps of a process or program. I will comb over these stories and examine how these stories can be used in a non-extractive way as both data and funder motivating materials. These stories about programs and people impacted by food systems change will be shared with the Massachusetts Food Systems Collaborative, and used to make a case for the importance of food systems programs that empower people to take their food and economic security into their own hands. Formatting questions, conducting interviews and gathering stories will engage evaluation participants in the data collection necessary to formulate both the stories of a project, and the needs for programming to change in response to community need. Participants will be empowered to examine where food policy can be influenced or changed to be more responsive to community need based on stories. By sharing their work with the Massachusetts Food Systems Collaborative, participants will be able to directly influence policy with their own ideas.
Stories hold an important voice in food policy. Stories shape the needs and desires of the food movement. Look no further than the participatory process that engaged Baltimore City's Resident Food Equity Advisors to help rename "Food Deserts" to "Healthy Food Priority Areas" to shape equity in perception. Stories, ideas and participation shape the food movement. Participant engagement leads to new ideas and supports regional action that acts as grassroots resource gathering that shapes change from the ground up, placing the power back into the hands of the people at a crucial time in American history and empowering communities to take their food futures into their own hands.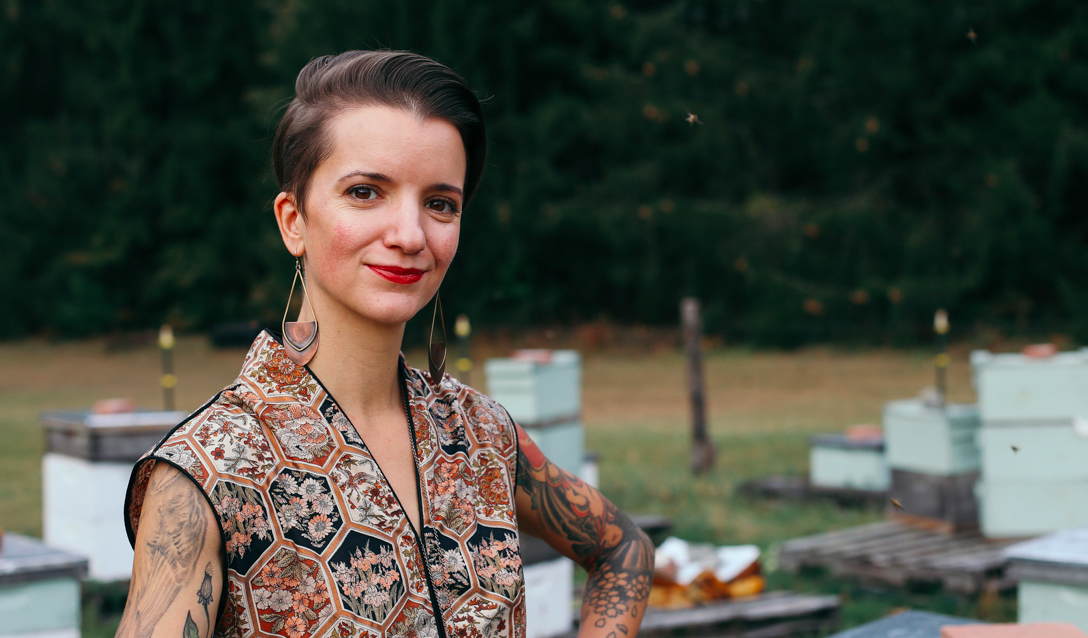 Angela Röell is an innovative program designer and evaluator with passions for food justice and community empowerment. They own Yard Birds Farm & Apiary, a homestead and honey business operating out of Montague, MA. Professionally Angela provides curriculum and program development, facilitation, and participatory evaluation services to organizations and institutions in New England.
Angela believes education is a tool for social justice, within this pedagogy they advocate for developing audience specific curriculum using experiential and reflective learning. Angela teaches in sustainable food systems at the University of Massachusetts and the Franklin County House of Corrections; their course load includes explorations in food recovery, beekeeping, cooking, and food preservation traditions learned from their own grandmother. 
This piece was originally published by Johns Hopkins Center for a Livable Future's Food Policy Networks.