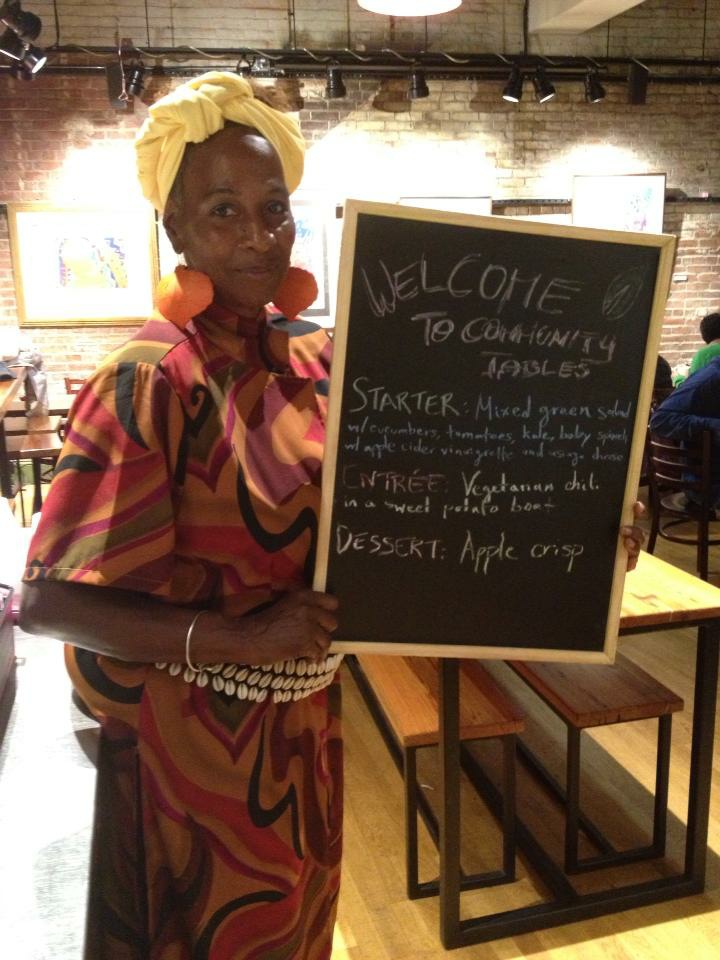 The Haley House Bakery Café in Roxbury, has been dispelling the myth that eating healthy, organically or clean food, has to cost a lot of money. 
That's why I love being with folks who care about their community. Here at Haley House, every Saturday from 5 pm - 7 pm, I host an event called Community Tables. It all began in March 2012. Ms. Kong, the manager, asked if I would be interested in hosting an event which feeds community folks locally grown organic produce healthy raised chicken and fish. I agreed. 
"Welcome to COMMUNITY TABLES here at The Haley House Bakery Cafe." As the hostess, that's my greeting, accompanied with a pleasant smile.
The tables are handsomely dressed for dinner. Approximately 40 seats. Checking it twice, everything is ready as I unlock the front door. Now that this event has become so popular, folks are arriving on time to make sure they get a seat. "Our guests are arriving," I'll yell to the kitchen in the back of the house, where the Head Chef, Mikey, and a big scoop of volunteers are busy prepping, chopping, slicing, rolling, and creating the starter for the evening meal. 
"WELCOME," there's coffee on the house to be enjoyed with a generous donation of Iggy's bread selections cut into bite size portions. Our guests enter with happy faces and happy greetings anxious to get started. Filtered water and a fresh pitcher of Organic MEM tea has been brewed and iced, also compliments of Haley House. Who can say "No" to this Saturday night date?
My welcome speech to our guests is as dramatic as it gets. Filling their ears with the 3-course menu of the day. The history of the Haley House tells how the concept of feeding folks began with Mr. and Mrs. McKenna well over 50 years ago. 
House and safety rules have been completed. 
Chef Mikey hands me the menu. 
Yes, this is the moment our guests are waiting for :
STARTER: soup or salad is described.

ENTREE: explained so well by me (smile)
The beautiful surrounding artworks on the wall. Mouths are watering.
At this point I must ask who has special diet requests.
Any vegetarian or vegan diets today? Any food or beverage allergies? 
College student volunteers file out of the kitchen with trays of salads/soups plated for each guest. On and on through each course. 
The event is always pleasant, music fills the air as our guests chat, smile, applaud the Chef and volunteers. Envelopes are collected after a grand homemade dessert had been served. The chatter is endless. Everyone had a story to tell.
"PAY WHAT YOU WISH..." is our motto.  Folks leave content. 
WHAT A GREAT DATE.
Yes, we do it again EVERY SATURDAY AT 5 pm. 
Fulani M. Haynes has retired from her 30-year career as a Registered Nurse, but she continues to contribute positively to the Roxbury and Dorchester neighborhoods of Boston, where she has been a lifelong resident. Ms. Fulani's accomplishments range from community based support, cultural, and artistic programs, musical endeavors, public speaking, theatrical performances, public health and supportive nutritional mentoring, organic gardening and cooking, to hosting live events, radio programs and community dinners, to raising her three children.