This fall, a new food co-op opened its doors in downtown Orange, Massachusetts - the result of an unusual partnership between a food buying club and a land trust. The Quabbin Harvest Co-op offers an example of how land trusts can advance their farm conservation missions by helping to rebuild the local food system.
Located in the North Quabbin region of central Massachusetts, Orange is a former mill town that is considered a "food desert" by the United States Department of Agriculture – meaning that many residents have low incomes and limited access to grocery stores or other healthy food outlets. Today, thanks to the Quabbin Harvest Co-op and the initiative of community members, downtown residents have access to healthy, local food within walking distance of their homes.
The seeds for the new store were sown in 2009 with the creation of the North Quabbin Community Co-op, a cooperative buying club for locally grown fruits and vegetables. Operated entirely by volunteers, the co-op grew rapidly and members began thinking about expanding into a public, downtown storefront, to offer more products and make them available to everyone in the community. There was just one problem: as a small organization without collateral, the co-op could not get a loan to purchase a building.
A new, market-based approach for land trusts
Creative individuals dreamed up a solution. Knowing Mount Grace Land Conservation Trust's interest in supporting the local food system, the co-op approached Mount Grace about the possibility of acquiring a building downtown. This was an unusual request, since land trusts are generally in the business of conserving farms and forests, not purchasing commercial buildings. But Mount Grace saw that creating a new market could help conserve farmland by keeping farms in business, while also filling a need for more healthy food in the heart of Orange.
Mount Grace is a regional land trust that has permanently protected nearly 29,000 acres of land over the last 28 years, including over two dozen farms. "Mount Grace sees this partnership with the Co-op as a strategic farmland conservation tool to address the gaps in our local food system and keep our region's farmers on the land," said Mount Grace Executive Director Leigh Youngblood. "Increasingly, land trusts are becoming aware that land conservation alone is only part of the solution to keep our farms in production. Increasing access to affordable farmland, processing and storage infrastructure, local markets, and distribution networks is just as important."
Meanwhile, a similar project was happening in nearby Petersham, MA. When the beloved Country Store closed its doors in 2012, the community rallied to re-open it, and worked with the East Quabbin Land Trust to purchase the property. Today, the land trust owns the building and leases it to local restaurateurs who operate the café and store, both of which feature locally grown and produced food. The Country Store in Petersham is once again the heart of this small town, thrumming with life and good food.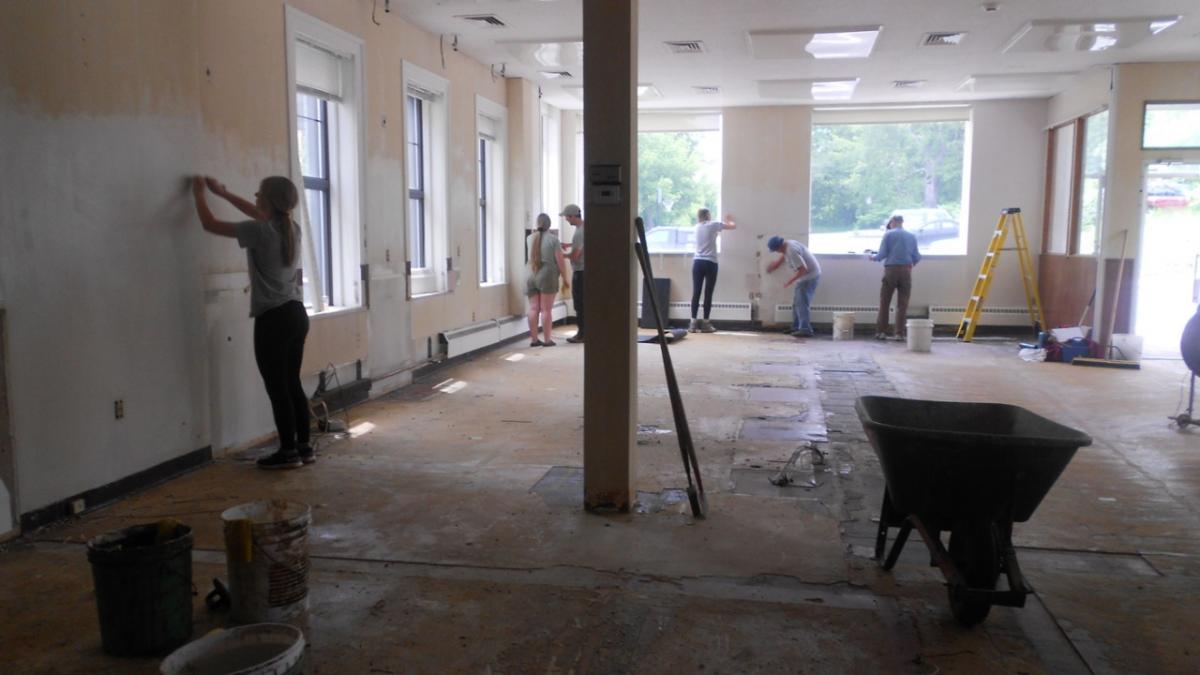 In early 2014, Mount Grace purchased the former Workers Credit Union building in downtown Orange, and after many months of renovations and volunteer labor from the local community, the store officially opened in October. Quabbin Harvest is now open five days a week, Tuesday-Saturday, and employs six people. The co-op's mission is to provide healthy food at an affordable price, while building community, supporting local agriculture, and respecting the natural environment.  True to its local roots, the co-op sells products from over 50 farms and businesses within 35 miles of Orange.
The Greater Quabbin Food Alliance
Quabbin Harvest is the result of collaboration between two organizations that would not traditionally cross paths: a food co-op and a conservation land trust. Realizing that there are many folks working in the local food system who might benefit from this kind of cross-sector collaboration, local leaders came together in 2013 to create the Greater Quabbin Food Alliance, a network that connects people and resources in the North Quabbin and beyond.
Modeled after PV Grows, a food systems networking organization in the Pioneer Valley, the Food Alliance hosts public forums twice a year for members to share information and find opportunities for collaboration, and supports working groups that take on a variety of community projects. The network includes local farms, restaurants, food processors, lenders, land trusts, food banks and pantries, educators, schools and hospitals, buy-local advocates, chambers of commerce, planning agencies, and food waste haulers.  This unusual assortment offers a unique opportunity for cross-pollination amongst people who might not otherwise be exposed to each other's work.
To learn more about the Greater Quabbin Food Alliance, visit their website at quabbinfoodalliance.wordpress.com or email greaterquabbinfoodalliance@gmail.com.  
Visit the Quabbin Harvest Co-op at 12 North Main Street in Orange, or online at nqeats.org.
Bradley Kennedy is an AmeriCorps volunteer serving with Mount Grace Land Conservation Trust through the MassLIFT AmeriCorps program. She works on farm and food issues and coordinates the Greater Quabbin Food Alliance.