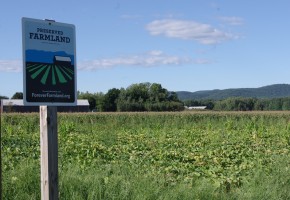 PVGrows is hosting their 2015 Spring Forum on Wednesday, April 15th from 9:00-1:30pm, in Holyoke, MA on the topic of land access.
Just as a house needs a strong foundation to support it over time, farmers need secure access to land to produce food. Land is the foundation of our food system. 
How does access to farmland fit into a vision of creating a healthy, resilient, and equitable food system?
How can we ensure that farmland is available and protected for future generations?
What is the connection between food access and farmland access?
What can urban and rural communities learn from one another about accessing land for food production?
We all have a stake in supporting working farms by expanding secure access to land. Farmers with secure access can afford to purchase farmland or can obtain long-term leases that allow them to feel confident investing in the soil or other infrastructure. They live in communities that prioritize food production among other land uses. In our region, as elsewhere, food security – ensuring adequate, healthy food for all – is of great concern. Our region's food security depends on farmers' land security.
PVGrows' 2015 Spring Forum will explore the important role that secure access to land plays in our food system – and how we can all work to strengthen this foundation. Community support is critical to help farmers access, hold, and transfer land – and to keep working farms viable for future generations.
This event is open to anyone interested in and working for a healthy food system in the Pioneer Valley. Read more here about the PVGrows Forum and Register for the PVGrows 2015 Spring Forum. Video from previous PVGrows Forums are available on the PVGrows YouTube Channel.
There will be a MA Food Plan Listening Session following the Forum. 
Background
The Connecticut River Valley has some of the most fertile farmland in the world.  The Valley is home to 1,950 farms, and ⅓ of Massachusetts' farmland is located in the Pioneer Valley region.
The region is facing several challenges: 
Cost of Land: For new and established farmers alike, access to land is a top challenge. With farmland values up to $10,000 per acre, our area has some of the highest farmland prices in the country, and competition for good land is fierce. New farmers are at a particular disadvantage when it comes to affording and finding available farmland. 
Losing Prime Farmland: More than 23,000 acres of farmland in the Valley have been permanently lost to development since 1972. 67,580 acres of active farmland are still unprotected and because it is flat, prime farmland tends to be easy to develop.
Aging Farmers: Many more acres could be lost as a significant percentage of our farmland changes hands in the next two decades. The average age of farmers in New England is rising. Nationally, 92% of farmland is owned by people over 45 years old and the average age of principal operators is 58 years old in both the U.S. and Massachusetts. With most farmers lacking succession plans and many without identified successors, an unprecedented number of farms and farm acres are at risk of being lost.
Food Access: Nearly 100,000 residents of Western Massachusetts, including 35,000 children, are considered food insecure, which means that they do not know where their next meal will come from. In addition, several areas of Western MA, both urban and rural, are considered "food deserts," where residents do not have nearby opportunities to buy or grow fresh, nutritious, affordable food. Keeping land in agricultural production is an important step in making food available to everyone in the region.
Competing Uses for Urban Land: Urban agriculture can provide many social and environmental benefits, including providing access to fresh food in areas that are otherwise lacking. And yet, with the high cost of urban land and interest in focusing future development on generating tax revenue, the majority of urban farms and gardens do not have adequate space or secure land tenure, threatening the sustainability of urban agriculture programs. Increased land access and secure land tenure in urban areas for farmers and gardeners is a vital part of increasing the consumption of locally produced food in the region. 
Addressing these challenges will help move the region towards A New England Food Vision.
Resources
PVGrows Forum Program Team: Melissa Adams, MA Dept of Agricultural Resources, Javiera Benavente, PVGrows, Kari Blood, Kestrel Land Trust / Forever Farmland Initiative, Jim Habana Hafner, Land For Good, Christina Maxwell, The Food Bank of Western Massachusetts, Jamie Pottern, Mount Grace Land Conservation Trust / Greater Quabbin Food Alliance, Johanna Rosen, Equity Trust and Food Solutions New England, and Sandy Thomas, Center for Agriculture, Food, and the Environment