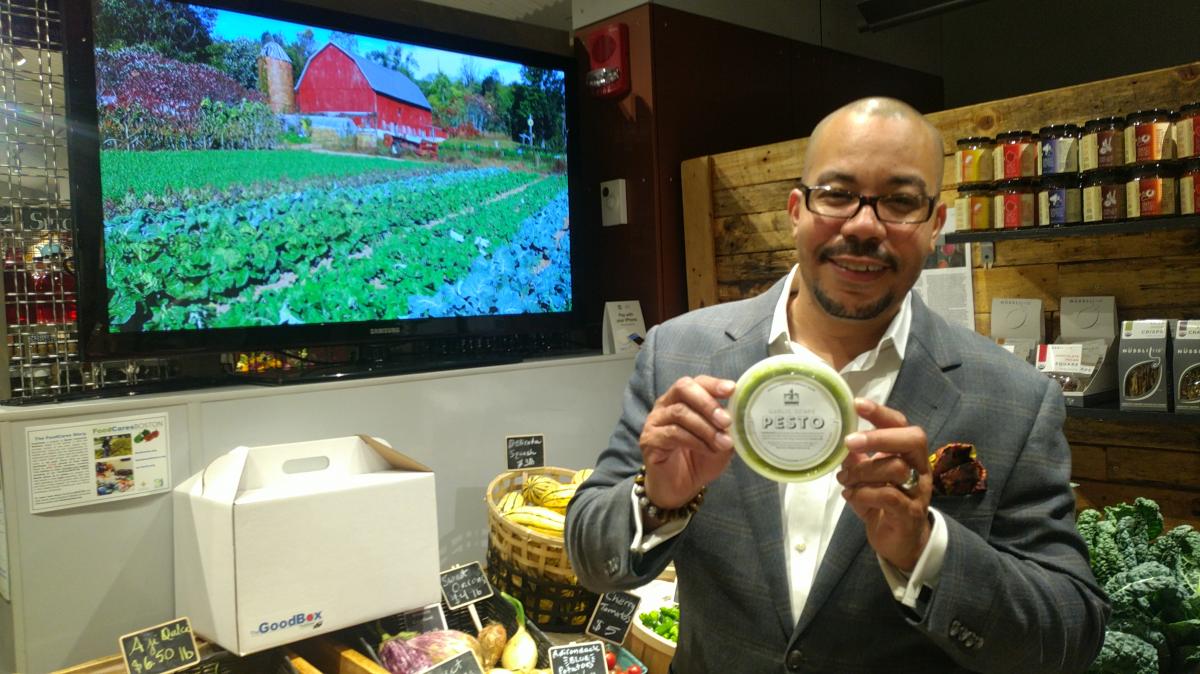 The Boston Public Market (BPM) celebrated the grand opening of its newest vendor, FoodCares Urban Market, on November 1st, 2017. Lead by Baraka Community Wellness Founder and prominent local health advocate, Raheem Baraka, the urban farm aggregate sells fruits, vegetables, and value-added products from a variety of Boston-area growers and small businesses. BPM welcomed Baraka's latest non-profit venture with some of Boston's most notable leaders in food policy.
Last year Baraka and his team successfully launched FoodCaresBOSTON, a Baraka Community Wellness initiative that provides free, healthy food and educational resources to families and children in low-income communities, specifically within public housing. Since the summer of 2016, the program has distributed 202,652 pounds of healthy food to 2,753 family members, including 1,744 children in need. The Urban Market retail presence at the BPM supports these food access efforts while simultaneously creating financial opportunities for small local producers.
The idea for the stall emerged from a connection Baraka made as a participant in the Food Solutions New England Network Leadership Institute (NLI). During a NLI session at BPM, the staff gave a tour and presentation about the market. Baraka raised the issues that the market although supportive of local sustainable agriculture and growers, did not have any representation of the urban growers just a few miles away. Everyone agreeing that this needed to be addressed, Baraka offered that he could help support a connection to these urban farms and gave the BPM staff his card. From that meeting, they initiated the project.
ABOUT BARAKA COMMUNITY WELLNESS:
Baraka Community Wellness (BCW) engages, educates and empowers individuals and families in at-risk communities to improve their own health and wellness, and thereby help reduce healthcare costs for everyone. To accomplish this mission, Baraka Community Wellness:
Provides information and guidelines to help establish and reinforce healthy habits and norms
Creates and manages community-wide wellness programs tailored to diverse populations
Designs policies and processes for communities, employers, insurers, and municipalities to reduce risk, enhance health, increase productivity, and reduce health care costs; and
Generates momentum to help shift the health care sector in particular, and society more generally, toward a culture that values wellness and disease prevention as paramount.
BCW's integrated program model Healthy Families Healthy Communities directly addresses key social determinants of health, namely: lifestyle and behaviors; food access and education; and environmental factors such as the built environment. Core programs Healthy Moms Healthy Kids, FoodCaresBOSTON, W.e. FIT and Community Cooking Academy are informed by evidence gleaned from the experiences of ow-income families, caregivers and their children who live in low-income neighborhoods, many in subsidized public housing. These populations have the poorest health outcomes of any demographic in America. BCW's comprehensive suite of programs include fitness education, nutrition education, health coaching and advocacy, and social supports such as improved food access for those experiencing food insecurity and social service advocacy to alleviate domestic stressors that contribute to poorer health outcomes. Participants in BCW's programs demonstrate improved life skills, greater self-sufficiency and measurably improved health outcomes, and substantially higher quality of life.
Read more from Boston Magazine.
ABOUT THE BOSTON PUBLIC MARKET:
The Boston Public Market is an indoor, year-round marketplace for locally sourced groceries and specialty agricultural products, where residents and visitors can find fresh, seasonal food from Massachusetts and New England. The BPM's mission is to provide fresh, healthy food to consumers of all income levels, nourish our community, and educate the public about food sources, nutrition, and preparation. The Market houses over 35 local farmers, fishers, and food entrepreneurs selling items such as farm fresh produce; meat and poultry; eggs; milk and cheese; fish and shellfish; bread and baked goods; beverages; flowers; and an assortment of specialty and prepared foods. Everything sold at the Market is produced or originates in New England. The Boston Public Market, located at 100 Hanover Street above the Haymarket MBTA station, is currently open 8 a.m. – 8 p.m. Monday – Saturday and 10 a.m. – 8 p.m. on Sundays.
Boston Public Market vendors are proud to accept SNAP/EBT for all eligible market products, and the Market is a participant in the Commonwealth's Healthy Incentive Program (HIP), which doubles SNAP dollars spent on fruit and vegetable purchases at participating farmers markets and the Boston Public Market.
The Market is a dynamic civic space, educating the public about food sources, nutrition, and preparation. In addition to 40 permanent vendors and a number of rotating short-term "pop-up" vendors, the Boston Public Market includes the KITCHEN, a 3,200 square foot demonstration kitchen programmed by The Trustees, the Market's programming partner, with opportunities such as hands-on cooking demos, lectures, family activities, exercise classes, training and community events. 
Development of the Boston Public Market is a partnership between the not-for-profit Boston Public Market Association, individual and corporate donors, foundations, the City of Boston, and the project's seed funder, the Commonwealth of Massachusetts. The Boston Public Market Association developed and operates the Boston Public Market with a public impact mission to support the farmers, fishers, and food entrepreneurs who grow, catch and produce local food, and to nourish our community with food and experiences.