Building Capacity for Food System Transformation
How can we better tell the story (and tell a better story) of the food system we want and need for our region?
How can we ensure that racial equity and dignity play a central role in that food system?
What skills and experience do we need more of in our region so that people and communities themselves are the primary drivers of the food systems being created?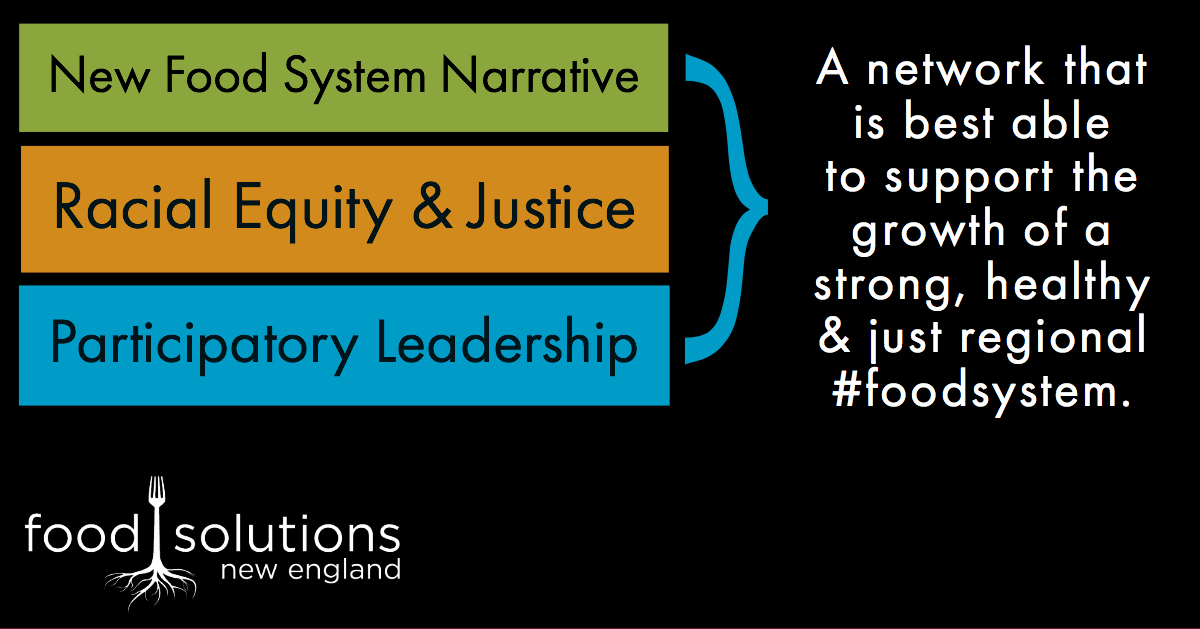 In 2019 Food Solutions New England is joining together with the
New England Grassroots Environment Fund
to expand support for our overlapping networks, strengthening capacity across the region for effective food system framing and narratives, centering racial equity and justice in our food system, and boosting our ability to transform our food system based on a growing base of participatory leadership skills.
2019 Activities
Some of the work that we will jointly undertake this year, with support from Garfield Foundation, includes:
PARTICIPATORY DESIGN: Working with a Co-creation team for three design labs (February through April) focused on figuring out what training materials, toolkits and experiences our networks need now. What already exists? What do we already have available and what are the gaps or needs for new resources to build capacity?


TOOLS: Creating a modular set of learning experiences and training materials like slideshows, workbooks, discussion guides and toolkits.  These will be used in a variety of settings (webinars, conference sessions, workshops, presentations, etc.).

REFINE & UPDATE: Testing and refining these materials by using and updating them throughout the spring, summer and fall of 2019 at various planned conferences and convenings as well as at some stand-alone training events and community gatherings.

SHARE: Running a track of capacity-building sessions at the next New England Food Summit and other similar events.

ENDURE: Strengthening the connections between FSNE and New England Grassroots Environment fund based on shared values, common geography and overlapping networks in order to pool assets, skills and resources for the greater benefit of our region.

MOMENTUM: It's not confirmed, but we are hoping to create a grant pool at the end of 2019 in order to support projects that will weave together food system narrative work, racial equity values and participatory leadership skills gained by beneficiaries of this project.
FAQ's
Who is the audience for the capacity-building work?
Individuals, businesses and organizations working on food system strengthening and transformation in New England. This could include non-profits, activists and community groups, government agencies, farmers, fishermen and other food-related businesses who want to align with the shared values of FSNE and the Grassroots Fund.  
Why the focus on a new food narrative, racial equity and participatory leadership?
Many people, businesses and organizations across our region - including FSNE network participants - have been working on strengthening our local and regional food system in many different ways. Some of them are aligning with the direction set in a New England Food Vision which broadly describes how our region could meet certain food production goals from within its own borders in the future. This Capacity-Building Project elevates the shared values which are an inseparable part of the food system we are trying to create. This project builds skills around "operationalizing" those values in how we work toward things like production, nutrition and food security goals, for example.
How can we get involved or benefit from this project?
To start with, drop us a note expressing interest in this project. If you are organizing a conference or gathering and would like to host a training on these topics (New Narrative, Centering Racial Equity, and Participatory Leadership for Food System Transformation), let's talk. This project will likely result in modular formats so that we can offer everything from short talks to half-day and full-day workshops and trainings.