In 2019, for our fifth annual 21-Day Racial Equity Challenge, you can experiment with our new "Discussion Guide" for groups that are doing the Challenge together!
Groups at schools, colleges, businesses as well as in government agencies, non-profits and in faith communities are joining together to dismantle racism in our food system and in our daily lives. The new Discussion Guide is a way to support that even more!
The primary authors of the Discussion guide are Curtis Ogden and Karen Spiller, longtime participants in the Food Solutions New England network and co-chairs of our Racial Equity committee.  Curtis & Karen also share the Thomas W. Haas Professorship at the UNH Sustainability Institute, where the FSNE network is hosted.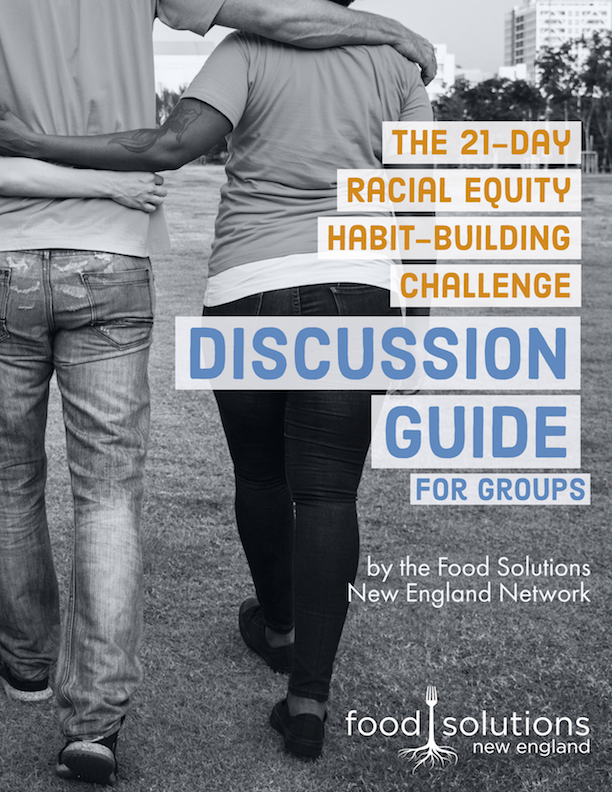 Other contributors to this first edition of the Discussion Guide include:
Shannon Grimes, Maine Farmland Trust

Joanne Burke, UNH, Department of Agriculture, Nutrition and Food Systems

Lisa Fernandes, UNH Sustainability Institute

Jamie Picardy, USM Food Studies Program
If you have questions about the guide or suggestions on how we can improve this first edition for future years, please contact FSNE!
The Discussion Guide is offered in the spirit of collaboration and forward momentum. If you reuse any portion of this beyond its orginal format, please give attribution back to Food Solutions New England.  Not for commercial reuse.

FSNE 21-Day Racial Equity Challenge materials by Food Solutions New England are licensed under a Creative Commons Attribution - Non Commercial-ShareAlike 4.0 International License.