You are here
What do we want?
Permanent protection, dignity and respect for the 11 million undocumented people in the US!
When do we want it?
NOW!!
On April 16th, in the first of a two-part exploration of the connection between worker rights, racial justice, and sustainable food systems, the 21-day Racial Equity Habit Building Challenge prompt referenced Cosecha (the name translates to "Harvest"), a nonviolent movement working to win permanent protection, dignity and respect for the 11 million undocumented people in the US. 
Within a few weeks of the Presidential inauguration, I started participating in some Cosecha organizing where I live in Boston.  Doing so is providing me with a concrete way to resist the racist, anti-immigrant actions of the new Administration.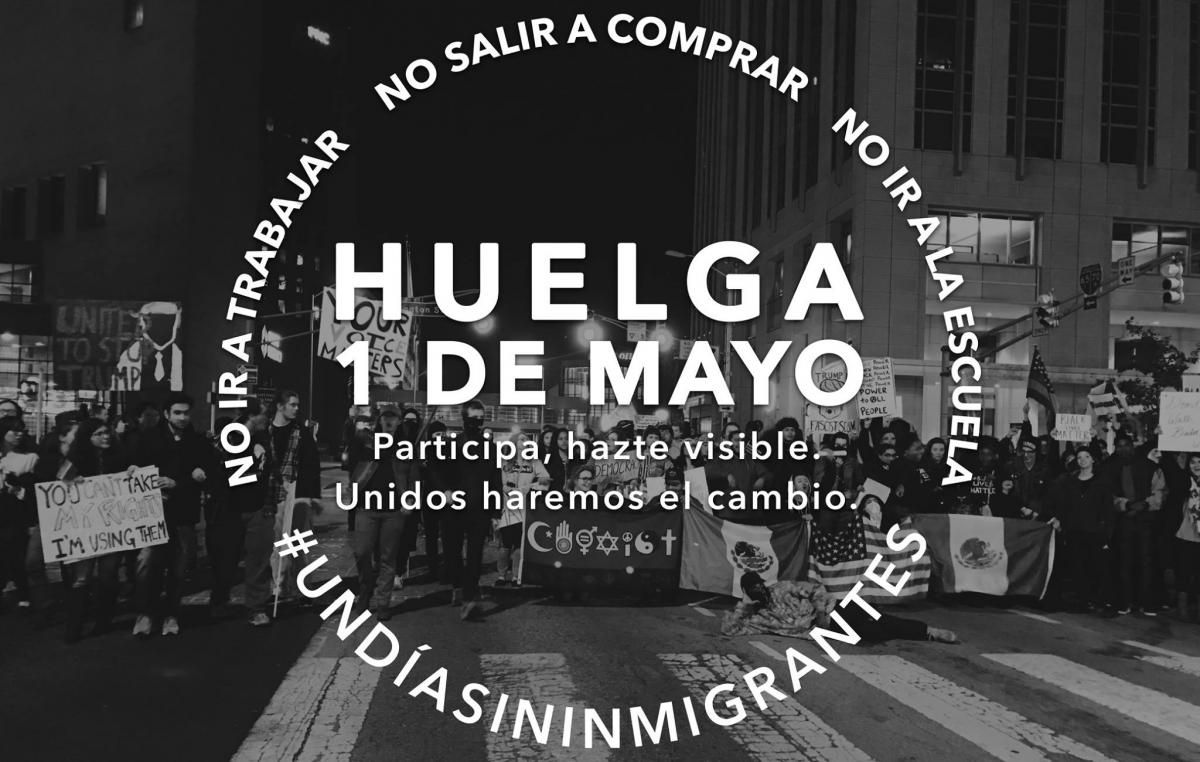 The Cosecheras y Cosecheros describe their movement as one that aims "to honor the thousands of undocumented workers that provide food to our tables today and for the legacy of the millions of workers that were forced to become slaves to provide for the accumulation in this country.  After so much sacrifice, pain, trauma, and hard work, we think it is time for our community to try something new. Sustained mass non-cooperation. Widespread boycotts. A general strike."
Over a snowy February weekend, I participated in Cosecha's Asamblea Nacional/National Assembly, where over 300 mostly young DREAMers and their allies strategized together—in Spanish and English—on how to make a one-day "huelga" (strike) as effective as possible.  These inspiring and smart young people used that weekend not only as a general volunteer recruitment and training opportunity, but also as a time to mount some "mini actions" at stores, on public transit and in public spaces around greater Boston as a sort of test-run for the May 1st Dia sin inmigrantes.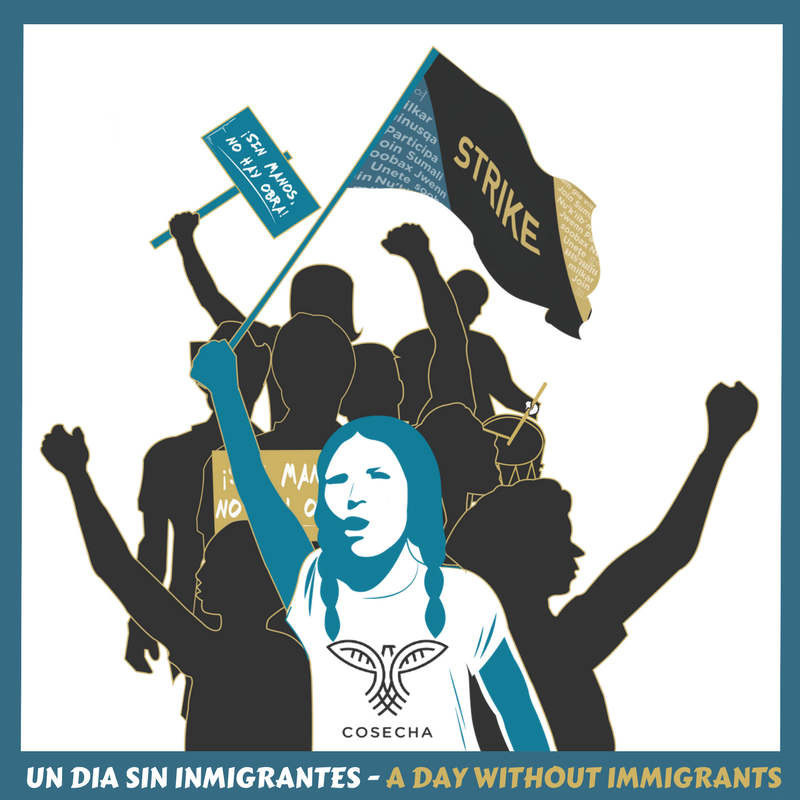 These actions employed humor and creativity to demonstrate the vital role that immigrants play in our society and economy, all while informing people about the strike.  The mini-action I participated in* featured a number of us going to a local chain grocery store and paying for items in pennies—hundreds and hundreds of pennies!—in order to clog up the checkout lines and create a captive audience for us to talk with stymied shoppers about the role of immigrant labor in the food industry. When one of the Cosecheras asked through her megaphone how many people working for the grocery store were immigrants, all of the workers raised their hands!!
The truth about how our food is grown, harvested, hauled, stocked on store shelves, prepared in commercial kitchens, served in restaurants, and ultimately disposed of is one largely hidden from the majority of consumers in this country.  Cosecha, the Food Chain Workers Alliance, the Fight for $15 campaign, Black Lives Matter, Migrant Justice, the HEAL Food Alliance, and many others are working to bring to light what has been hidden for so long: the racism and economic injustice inherent in our current food system.  And, all of these efforts—and Food Solutions New England and others right here in our region—are working hard to create a new food system, one that acknowledges the injustices of the current system and seeks to build a new system grounded in racial, economic and environmental justice.
Please consider joining the Strike/Huelga on Monday, May 1st!  In solidarity with the thousands of immigrant workers who will risk their jobs and their safety that day by striking, don't go to work, don't send your kids to school, don't buy anything!  Look for a Cosecha event near you to participate in on May 1st.  And, if you can, give generously to the Strike Fund that CosechAllies is building to provide wage replacement and other financial support to striking workers.  Thank you! ¡Si se puede! 
*Movimiento Cosecha was live February 11:  50 Cosecher@s are taking over a grocery store in Downtown Cambridge to call for Un Día Sin Inmigrantes (A Day Without Immigrants) on May 1st! Join the movement at bit.ly/diasininmigrantes #HASTALAHUELGA
Born in Connecticut, brought up in Maine and now living in Massachusetts, dyed-in-the-wool Yankee Christine James has nearly 30 years of experience working for small food system and environmental organizations across New England. Her work over the years has included teaching English to speakers of other languages (ESOL) at community-based organizations in Boston, serving as executive director of an educational organic farm in rural Maine, and in a similar role for a small urban greening organization in Roxbury. ​She has a BA in art history from Bowdoin College and an MA in Urban & Environmental Policy from Tufts University. Christine was moved to submit this blog out of love and respect for her many immigrant and refugee friends and colleagues who have taught her so much over the years about compassion, hard work, honor, and dignity.