You are here
Q&A with Cristina Sandolo
Food Solutions New England is hosting the 6th in a series of regional Food Summits in Bridgeport, CT on June 8–9, 2016.  
This two-day event will feature more than 180 delegates from the six New England states working across the food system. Planners, farmers and farm workers, chefs, funders, government officials, and students will come together for discussions on topics including food recovery, policy, healthy, food chain workers, and more. 
Food Solutions New England (FSNE) heard from Cristina Sandolo, the Executive Director of the Green Village Initiative (GVI), who will be presenting a case study of GVI's work in Bridgeport at the Summit.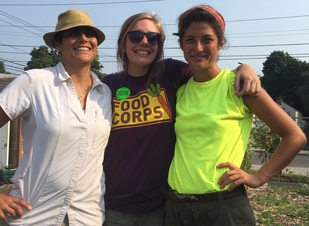 FSNE: What's one issue within the food system you'd like to see completely solved for the next generation?
Cristina Sandolo (CS): I would like to see institutional racism undone!
FSNE: What's the first, most pressing issue you'd like to see solved within the food system? 
CS: Living wage for all participants of the food system, within all aspects of the food system, including eaters.  
FSNE: What do you see as the biggest opportunity to fix the food system?
CS: Focusing on eliminating poverty through the food movement
Cristina joined Green Village Initiative in March 2015.   As Executive Director, she is leading the organization towards creating social, economic and environmental change through a unified network of urban farms, community gardens and school gardens in Bridgeport, CT.   She believes that cultivating young leaders of social justice, nurturing the farming and gardening movement across the city for maximum impact, and creating a robust food culture can lead to long-term change.  Previously, Cristina spent almost 7 years at Wholesome Wave, a non-profit focused on creating a vibrant, just and sustainable food system.  There, she launched and developed food access initiatives that now inform national-level policy and continue to impact the food system and communities across the country.  
To find out more about the New England Food Summit and view past Summit details, please click HERE. 
Want to see photos from last year's Food Summit? Please click HERE. 
Join the discussion using #FSNE16 on Facebook and twitter!