The Sixth annual 21-Day Racial Equity Habit-Building Challenge is coming in the Spring of 2020!
With more than 4,000 participants drawn from all fifty states (and some other countries as well), we've seen steady growth in the this program to learn about and undo racism in our food system and in our world.  As part of our commitment to racial equity and food justice, the Food Solutions New England (FSNE) network is dedicated to centering conversations about the role of racism in shaping our food systems (local, regional, national and global).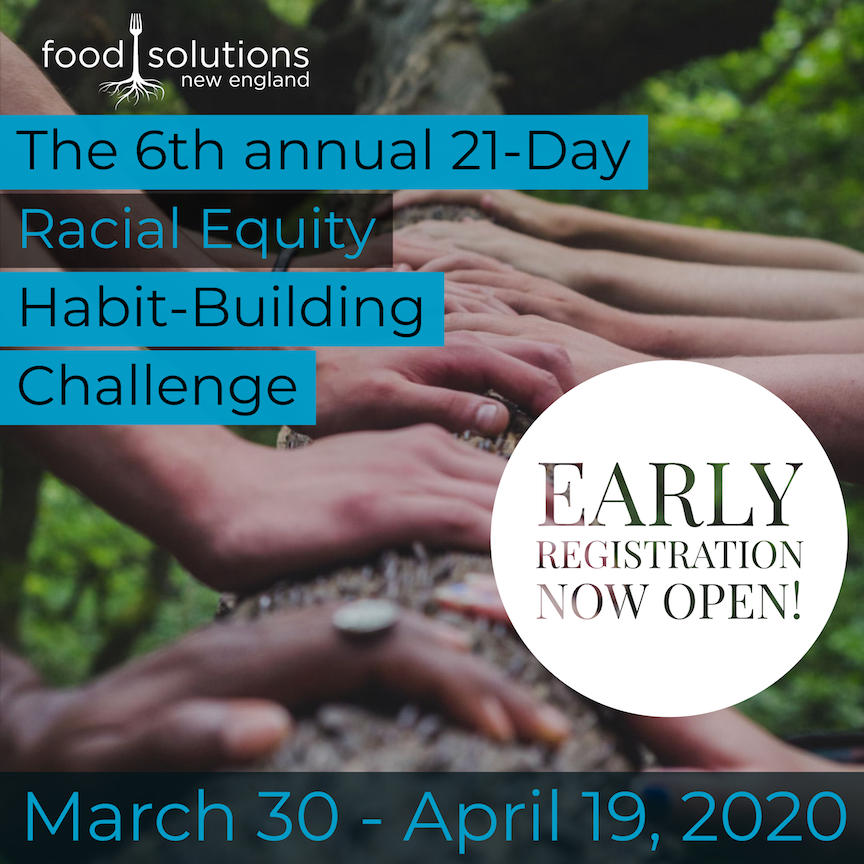 We believe it benefits us all to have greater collective capacity and courage to identify and address the different ways that bias, prejudice, privilege, and oppression show up in our work and lives.
This Challenge was originally developed by Dr. Eddie Moore, Jr., Dr. Marguerite Penick-Parks and Debby Irving and has been adapted by Food Solutions New England with support from the Interaction Institute for Social Change. The challenge is designed to create dedicated time and space to build more effective social justice habits, particularly those dealing with issues of race, power, privilege, and leadership. Participation in an activity like this helps us to discover how racial injustice and social injustice impact the food system, to connect with one another, to identify ways to dismantle racism and become better leaders for a more just, equitable food system.
Early Registration is now open for the 2020 Racial Equity Challenge! March 30 through April 19, 2020
The 21-Day Racial Equity Habit Building Challenge (aka the Racial Equity Challenge) is simple:
You (along with thousands of other people across the US) commit to deepening your understanding of and willingness to confront racism for 21 consecutive days. At the very least, the Challenge will raise your awareness. But for many participants it goes beyond that and changes they way they see and interact with the world.
What exactly happens during the Challenge?
During every morning of the Challenge, you'll receive an email "prompt" with a short reading, video or audio file. You are encouraged to take about ten to fifteen minutes each day with the material in the prompt. You have the option to log into our online forums (links will be provided) if you'd like to discuss the prompts in a moderated environment. We also encourage you to share your experience on social media using the hashtag #FSNEEquityChallenge.
So, do people do the Challenge alone or with others?
Both. And it's your choice. While it's designed to be "independent" study or learning, many have found over the years that they prefer to work throught the prompts with co-workers, friends, family or a small group from school or church.  In 2019 we will be issuing a "Discussion Guide" for groups as a downloadable PDF that anyone can use if desired.
Why 21 days?
There is no magic formula to change behavior, but committing to three weeks of consistently exploring the impact of race in the food system provides an intentional way to uncover racial inequities and injustices, as well as to discover the many ways we can collectively promote a more just food system for all.
This is an exciting opportunity to dive deep into racial equity and food justice. We hope you'll join us and accept this challenge.
Want to learn more?
We have assembled a Racial Equity Challenge Resources page with a wealth of written, video and audio materials to support your learning journey around racial equity work in your life and in your communities.
Search Facebook or Twitter for the #FSNEEquityChallenge tag to see what people have been talking about.
Get in touch with us if you'd like to organize Racial Equity Challenge activities for your school or organization for 2020. We have been thinking about how better to support groups, organizations, schools, and agencies to take on the Challenge collectively.

---
Wondering if your school or university is participating as a group, possibly with weekly group conversations during the Challenge? Check back soon for a directory of organizers or "point people" with whom you can connect!
FSNE 21-Day Racial Equity Challenge materials by Food Solutions New England are licensed under a Creative Commons Attribution - Non Commercial-ShareAlike 4.0 International License.